Engraved Sweet jar
From 16,95 €*
Ready to ship in 24 h
Pages

Shape
All collages

Design only with text
Preview

All information about the sweet jar
Large sweet jar
Material: high quality glass
Height: 24,6 cm
Diameter: 13,6 cm
Diameter glass opening: 10,8 cm
Weight: 859g
Glass shape: round
Closes airtight with rubber seal
Price: 24,95 €*
Small sweet jar
Material: high quality glass
Height: 17 cm
Diameter: 10,3 cm
Diameter glass opening: 8,8 cm
Weight: 440g
Glass shape: round
Closes airtight with rubber seal
Price: 16,95 €*
Variations in comparison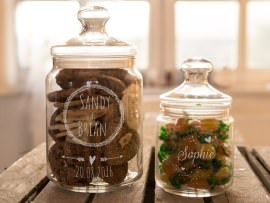 Individually engraved sweet jar
Snacking is now twice as fun. With your name or personal slogan it's clear who owns what's inside ;-).
Durable glass jar with a lid
Your cookies are safe. The cookie jar is sturdily manufactured and the lid keeps your biscuits fresh thanks to the sealing ring.
Personal engraving
Choose between different engraving templates, which you can customize with names or short texts.
Variety as a gift
We call the product "sweet jar", because we had to give it a name. But of course it is much more than that. We could also have called it mason jar, cookie jar, biscuit jar or spice jar. Because if you gift it to someone special, it's that much nicer if it's filled with goodies inside. Naturally, you can select what you think tastes best to your recipient. :-)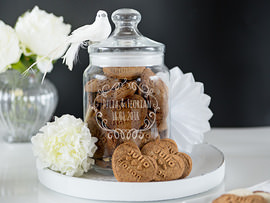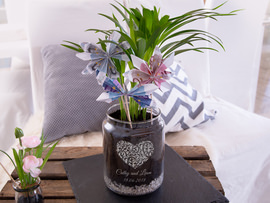 Engraved sweet jar: Popular design templates
Related products