Engraved zippo lighter
29,95 €*
Ready to ship in 24 h

Product is added to cart
Zippo lighter with engraving: Popular design templates
All information about the engraved Zippo lighter
The popular storm lighter from the USA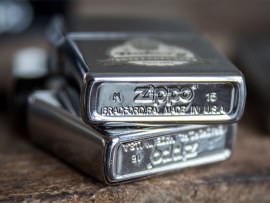 The engraved lighter is an original Zippo lighter with premium engraving and is delivered with the original Zippo gift box and the well-known Zippo warranty. Zippo® and the Zippo® logo are registered trademarks of Zippo® Manufacturing Co., Bradford, PA, USA
Personalised Zippo lighter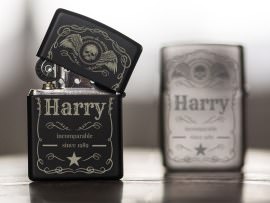 Have the petrol lighter engraved with one of our design templates and personalise it with either names or initials. Precise laser engraving technology brings out the brass colour that Zippo lighters are made of under the brushed chrome or black.
To be filled with lighter fuel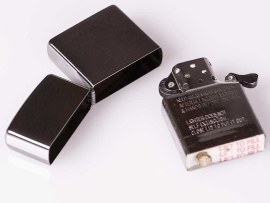 To use the engraved Zippo lighter, you have to fill it with lighter fuel. You can buy the fuel in many newspaper shops or various online shops. Our engraved Zippo lighter is delivered unfilled.
Engraved Zippo lighter
Colour: Black-matt or chrome-brushed
Material: brass
Weight: 60 g
Height: 5,5 cm
Width: approx. 3,5 cm
Price: 29,95 €*
Note: The Zippo lighter comes unfilled. Must be filled with lighter fuel in order to use. Zippo® and the Zippo® logo are registered trademarks of Zippo® Manufacturing Co., Bradford, PA, USA.
Related Products