3D Crystal photo
from 29,95 €*

Ready to ship in 3 work days
Your chosen photo

Your chosen photos

Your text
You didn't enter any text. "" there are characters that are not allowed

Font:
×
All information about the 3D crystal photo
Details
Material: optical glass
In 3 different sizes
Optionally with light base
Floating image in glass with 3D effect
Note: The photo is displayed in black and white
Comparison of glass photo (2D) and 3D glass photo
Which motifs are best suited for the 3D glass photo?
Portraits of individuals
Portraits of multiple people, such as couples or families
Portraits of animals
Any text, names, sayings
Information about the 3D glass photo
Before the glass of the 3D glass photo is engraved, your "flat" photo will be manually converted into a 3D portrait. This 3D motif is spatially lasered into the block of glass so that you can view it from all sides.

Tip: Add a light base to your order
The optionally available light base illuminates your 3D glass photo from below and additionally enhances the 3D effect. If you already have a 3D crystal photo, you can reorder a matching light base here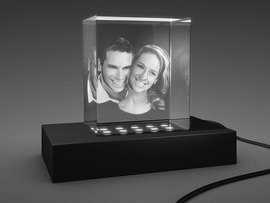 Related products