Embroidered Baby Blanket
34,95 €*
Ready to ship in 2 work days

Product is added to cart
Your chosen photo

Your text
You didn't enter any text.
Font:
×
All information on the embroidered baby blankets with name
Skin-friendly organic cotton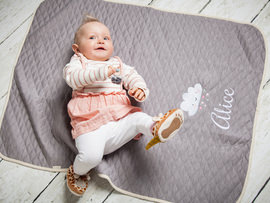 The embroidered baby blankets consist of 100% organic cotton. Organic cotton is produced without any chemically harmful substances and is therefore particularly eco-friendly and skin-friendly. Find further details to our materials used for baby blankets in our most frequently asked questions
Available in three soft pastel-colors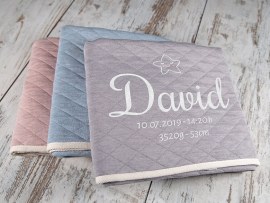 Our cozy throw blankets for babies have a sleek modern design. The baby quilts for boys and girls are available in three different colors: pink, lightblue and grey. They are stitched down with a beige seam all around.
High-quality embroidery

Our personalised baby blankets are embroidered with white thread. The quilts are machine washable at 40° without harming the embroidery. So feel free to play, cuddle and snack on the blanket.
Warm and comfy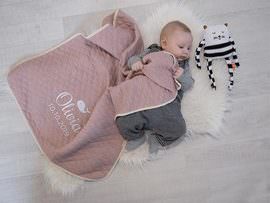 Our personalised baby blankets with names are beautifully soft and do not scratch the skin. The breathable fabric provides a pleasant warmth.
Perfect Match: Personalised Baby Pillow
Our embroidered baby blankets with name and the personalised pillow are the perfect match if you are looking for the perfect baby gift set.
Discover the printed pillow
Details
Colors: blue, pink or grey
Surface with diamond structure
Dimensions: 75 x 100 cm
Embroidery area: 25 x 20 cm
Material: 50% organic cotton,
lining: soft polyester
Care notice: machine washable at 40° C, not suitable for dryer
Personalised crawling blanket with name: Popular design templates
Frequently asked questions about the personalised baby blanket
What exactly is organic cotton?
The organic cotton of the embroidered baby blanket is produced under eco-friendly conditions. This means: without genetic engineering, without chemical fertilizers and without pesticides. Organic cotton is the best choice, especially for babies and children, because it is free of harmful substances and therefore particularly kind to the skin. The ecological cultivation of organic cotton also promotes environmental protection and improves the working conditions of farmers in the cultivation areas.
What part of the blanket is embroidered and at what size?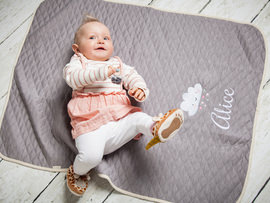 The newborn blanket is embroidered at the centre of the short end. The embroidery area is about 25 x 20 cm.
Is the embroidered baby blanket washable?
Crumbs, sticky fingers or grass stains are no problem for our baby blankets, because they are machine washable at 40°. After washing, the blankets should be hung up to air dry.
How can I personalise the blanket?
In our designer you will find different templates to design your blanket. You can have your blanket for newborns personalised with your name and date of birth or just your name.
How can I use the blanket?
Use the baby blanket personalised with name to cover the car seat or the buggy or enjoy wonderfull play sessions inside or outside. Further the baby blanket in size 75 x 100 cm is suitable as a cosy quilt for the cot or sofa.
What age is the baby blanket with name suitable for?
The personalised baby snuggle blanket can be used throughout the baby's life from birth. Infants can snuggle with the blanket and toddlers can play on it. Even small children can continue to use the hamper as a snuggle blanket.
Similar products