Design your photo canvas
14,95 €*
Ready to ship in 2 work days

Product is added to cart
Your chosen photo

Your text
You didn't enter any text.
Font:
×
All information about the photo canvas
Printed on the corners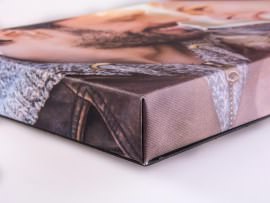 The corners of the photo canvas are also printed with your photo. Collages, however, finish off on the front to ensure an even design. The canvas is printed with digital printing. This produces a high resolution and high quality photo print.
Innovative material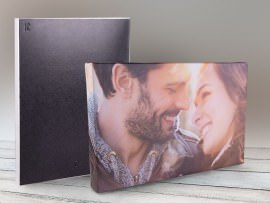 Our photo canvas is not stretched on heavy wood, but on a light yet robust paper frame. You will not see any difference on the wall but if the photo canvas should fall down, the light material will not cause any damage.
Details
Front material: Canvas
Back material: cardboard
Sizes:
30 x 20 cm: approx. A4 (29,7 x 21 cm)
40 x 30 cm: approx. A3 (42 x 29,7 cm)
50 x 40 cm: slightly smaller than A2 (59,4 x 42 cm)
Thickness: 4 cm
portrait and landscape format
Easy hanging of the canvas with photo print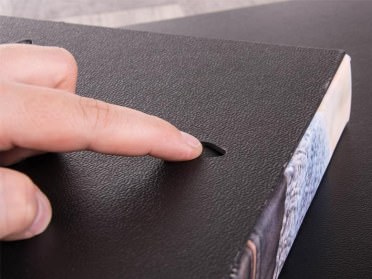 Uncomplicated hanging system: thanks to its lightweight construction, the photo canvas can be easily attached to the wall with nails.
Different sizes and formats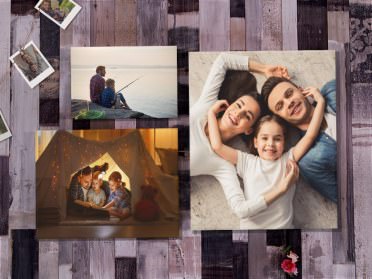 The photo canvas is available in 3 different sizes. You can have your photo printed on canvas in portrait or landscape format.
Would definitely recommend!

Would definitely recommend! Easy to use website, super fast delivery, and product exactly as described!
Already recommended to friends n family!
Photo canvas: Examples and popular motifs
Frequently asked questions about the photo canvas
Is the photo canvas printed around the corners?
Your favourite photo or motif is printed all over the canvas. However, if you use collages, they will end up at the edges and will not be printed beyond them.
Is the canvas wipeable?
Please clean the photo canvas only with a dry cloth. The canvas may not get in contact with water.
Can the photo canvas also be designed with text only?
Yes, you can design the canvas with photo, photo and text or just text. In our online designer you will also find many cool motifs with text.
Similar Products