Design your Decoration letters
14,95 €*
Ready to ship in 3 work days

Product is added to cart
Your chosen photo

Your text
You didn't enter any text.
Font:
×
Decoration letters: popular ideas
Also available as personalised decoration numbers
Also available as personalised decoration characters
All information about the decoration letters with photos
For Grandma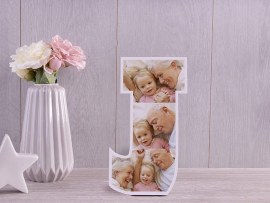 The decoration letters can be personalised with your favorit photos. With your pictures it is a perfect gift for your family members.
Set up the decoration letters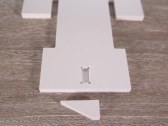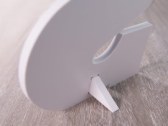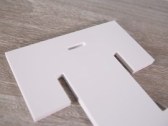 There is a small notch on the lower back of the decoration letters. Simply press the included stand into the notch and you can set up the letter or number. Of course you can also hang up your decorative letters: On the back you will find a small notch. With this you can put the letters on the wall with a nail.
Details
Available signs: Numbers from 0 to 9, letters from A to Z and several special characters. All characters can be ordered individually or combined.
Colour: white
Material: Forex (rigid foam)
Size: ca. 16 cm x 22,5 cm x 1 cm
Weight: ca. 83 g - 137 g
Price: 14,95 €*
ready for dispatch in 3 work days
Different sizes and shapes
Decoration letters: Frequently asked questions
Which letters can I design?
You can design the letters A to Z, the numbers 0 to 9 and several special characters.
So you can design names, initials or terms like "Home", "Love", "Dream" or "Family" als you like.
How do I personalise the decorative letters?
In our online designer you have different templates available for each letter. Choose your favourite template and design it with your photos. You will get a preview of your finished letter directly in the designer.
How many photos can I use on the decoration letter?
This is quite different: For each decoration letter there is a template designed for a single photo and templates for several photos. The possible amount of photos depends on the size or shape of the letter.
Is the stand for setting up included?
Yes, the stands for every letter or number is are included. You can simply press it into the notch on the back of the letter. The stand is not visible from the front.
Can I also hang up the decorative letters?
Yes, you can. Use the little notch on the back to hang the letters on a nail. You don't need another hanger.
Similar products