Design your tea light holder
12,95 €*
Ready to ship in 2 work days

Product is added to cart
Photo tea light holder: Popular Ideas & Design Templates
Tea light holder with Photo - All Information
Details
High-quality glass
Tea light included
Height:8,3 cm, Ø 7,3 cm
The design is printed onto transparent film
Printed all around
Note: For safety reasons, never leave the candle unattended.
Printed all around

Your photo will be printed on a sheet of film that will be glued around the lantern. The two ends of the sheet are glued on top of each other.
Special lighting effect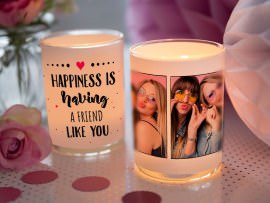 The colours on the outside of the holder are displayed particularly well by a lit candle inside the glass candle holder.
Tea light included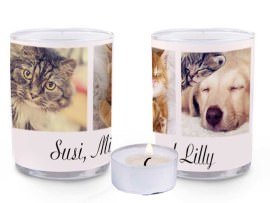 A white tealight is included with your photo candle holder, free of charge.
Frequently asked questions about the photo tea light holder
Will my image be edited before printing?
No, your images will be printed on the votive candle holder exactly the way you set it in the designer.
Is a tea light included?
Yes, you will receive a matching tealight free of charge with your photo candle holder.
May the personalised tea light holder be put in the dishwasher?
No, the candle holders with photo are not dishwasher safe.
"Would definitely recommend!"
Very helpful and friend staff. Fast shipping to UK from Germany. I'm very pleased with my item and will definitely use you again. Thank you very much.
(Dean C. form Ongar, Essex)
Similar products