Design your personalised bottle
9,95 €*
Ready to ship in 24 h

Product is added to cart
Your chosen photo

Your text
You didn't enter any text.
Font:
×
Engraved bottle: many possibilities
All infos about the engraved bottle
Swing stopper

The two narrow engraved bottles have a swing stopper.
Plastic cork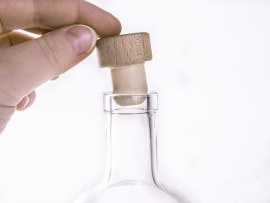 The wide personalised bottles have a plastic cork.
Solid glass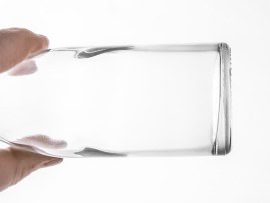 The engraved bottles are made of high-quality glass. The bottom is solid and very stable.
Sizes and shapes

In our assortment of bottles you can chose the right one for your purpose.
Personalised bottle: Popular design templates
Frequently asked questions about the personalised bottle
What are the advantages of a plastic cork compared to a natural cork?
On the one hand, plastic corks are easier to clean and therefore more hygienic than natural corks. On the other hand, plastic corks are more stable and do not break so quickly.
Are the personalised bottles dishwasher safe?
Yes, you can clean the engraved wine bottles in the dishwasher without worrying. Please rinse the plastic cork of the wide bottle by hand.
What fits through the bottle opening?
Are you unsure whether your desired contents fit through the bottle opening? You can find the exact diameters in the information on the individual bottles..
Product information
What can I use the engraved bottles for?
as message in a bottle for vouchers, love letters, congratulations or invitations
as special packaging for gifts of money
as whisky bottle, gin bottle or as carafe for liquor or syrup
as decorative glass bottle or vase
"Thank you Personello""
Designing and ordering was so easy, delivery was way before estimated date (5 days before). When opening and seeing it i was amazed it is beautiful, Thank you Personello.
(David N. from Nottingham)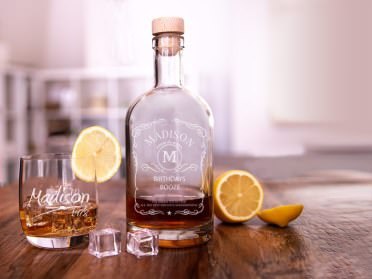 If you are looking for a gift set you can combine our personalised bottle with the engraved whisky glasses.
Related Products