Photo clock
19,95 €*
Ready to ship in 2 work days
All information about the photo clock
Details
Diameter: 29 cm
Weight: approx. 650 g (without battery)
Material: Glass
Required battery: 1 x 1.5 Volt AA
Included in delivery: dial, hands set consisting of 3 hands, clock movement (battery not included)
Recommended motive size: 1500 x 1500 Pixel
High quality glass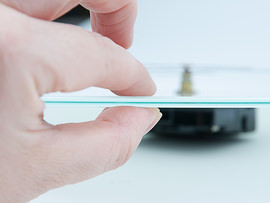 The photo clock is made of durable glass which is washable, robust and shatterproof.
Quartz movement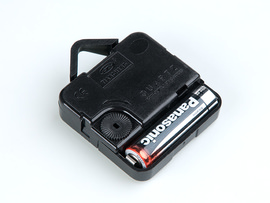 The wall clock has a quartz movement with a sturdy hook on which you can immediately hang your photo clock.
With your photos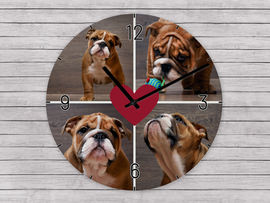 Your photos are printed behind the glass of the clock. The glossy surface creates a noble look.
Who is the photo clock suitable for?
The personalised photo clock is perfect as a wall clock for children's rooms. You can also design a clock with a photo for your partner as a declaration of love and a symbol for your time together. The photo clock is also great as a kitchen wall clock with a family photo or as a farewell and souvenir gift for teachers, educators or friends.
How is the photo clock assembled?
The set of hands and the clock movement are mounted on the watch. You will receive a step-by-step guide with your photo clock that explains how to assemble it. You can also view the instructions here.
Download (PDF, 3MB)
Are batteries included?
Batteries for the movement are not included. For the photo wall clock you need an AA battery (1.5V).
Photo clock: Popular design templates
Sample images of the photo clock
Gift suggestions for the Photo Clock
Design your own children's wall clock
Create a personal wall clock for the nursery of your daughter or son! A cute heart motif will appeal to almost all little girls; for boys, a car motif such as a red Ferrari is just right. In this way you can decorate your child's room according to their individual taste and give it a special touch.
Clock with photo as a Valentine's Day gift
Would you like to thank your sweetheart for the wonderful time you have shared so far? Then you can give away a homemade glass photo clock with a heart motif! This way you have a gift that symbolizes your time together and at the same time represents a kind of "declaration of love". In order to express your feelings even more clearly, you can also design the wall clock with a personal love message.
Everyone was fascinated

As a farewell present for our class teacher I ordered a photo clock with an image of all the children on it. I have to say, the clock was awesome, everyone was amazed, including me.
Similar products