Crystal photo
From 14,95 €*
Ready to ship in 24 h
Sizes and shapes of the crystal photo
All information about the crystal photo frame
Luminous base with LEDs

Do you wish for an illuminated laser photo block? Thanks to our optional luminous base, your favourite photo will be illuminated from below. The LEDs give it a natural glow. If you already have a crystal photo, you can reorder a base here.
Note: The luminous base can be powered via the included power supply (EU-Plug) or AAA batteries.
Disturbing backgrounds?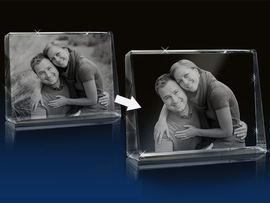 You would like to engrave a crystal photo from your favourite picture, but you have a disturbing background on your photo? Our designers will isolate your photo from background for free so the people in the picture will be shown off to their best advantage in the glass.
Isolate photo from background
Crystal photo: including gift box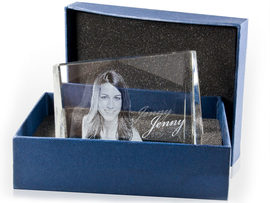 Our crystal photo is engraved by the newest laser engraving technique. That is why your pictures will be lasered in a high-resolution into the photo block. To turn it into a personal photo gift, we put the crystal photo frame inside a gift box for you.
Your photo floats inside the photo block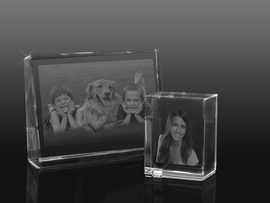 Thanks to the special process of engraving inside the glass, your photo seems to float inside the photo block. It looks like 3D crystals would float inside the photo cube. That makes it a personalised photo gift of high-quality.
Also available in portrait format
Photos in portrait format can also be engraved in the photo block by laser. For portrait format images, the production process decides whether to select a glass block in portrait format based on the subject. You cannot choose this yourself.


It looks simply amazing

The personalisation of the crystal photo is really simple. I chose one of our favourite pictures and it looks simply amazing. Particularly, when it is illuminated at night.
Details
Material: hand-polished optical glass
Special feature: Your photo is lasered inside the photo block
Note: Your photo is represented in black and white
Optional luminous base: can be run by both power supply and battery
Recommended size of the motifs:
1350 x 1000 Pixel
Our most popular crystal photo collages
Frequently asked questions about the crystal photo frame
Which photos are best suited?
Portrait photographs with a black background are best suited for the photo block. Photos in landscape format are just as suited as photos in portrait format. You just need to choose the corresponding glassblock.
Is there also a coloured version of the crystal photo?
Unfortunately, the engraving and laser technique used for the photo block doesn't allow the representation of colours. Your pictures will be represented in black and white inside the laser photo block.
How long does the production take?
Our crystal photo frames are ready for dispatch within 24 hours.
Is the glass token coloured or tinted?
No, we only use hand-polished optical glass for our crystal photos which is colourless.
Does the crystal photo stand on its own?
Yes, you can put the crystal photo on any even surface. There is no special positioner needed.
Can I order the luminous base separately?
Of course, you can order the luminous base separately here .
Note: The luminous base is equipped with an EU-Plug! But it can also be used with batteries.
Engraved laser crystal – Our service speaks for itself
Optimisation for free ✔
Are you looking for a photo gift of high quality? Your search has found an end. With our crystal photo, you have the possibility to hold your favourite picture for eternity. Gift idea photo block – during the production process we keep a special eye on the quality of your photo in glass. In order to make sure that you get the best version of your favourite picture and that you will be satisfied with your personalised gift, we offer the service of a free optimisation. You can send us your picture and our designers will remove the disturbing background for you.
Fast & non-binding service ✔
We also verify that the resolution of your pictures allow an ideal laser engraving and for our laser to represent all the details. As we want you to receive the perfect photo gift or the beautiful decoration for your apartment, we offer you this service for free and without commitment. We will send you the edited pictures back within a few hours for you to judge if you are satisfied with our work. Then you can decide if you want to order a crystal photo frame engraved with your photo or not.
Hand-polished & examined ✔
After your photo has been edited, it is lasered inside the glass. Before your crystal photo frame leaves our production, the engraved glassblock will be hand-polished and examined by us. We want to make sure that every laser photo block meets our standards of quality, complies with your wishes and that the glass token and the photo lasered in the crystal photo frame are in perfect condition. Illuminated by the luminous base, the faces engraved inside the crystal photo frame will look even more special. Your photo seems to float inside the glass cube. This bubblegram will amaze your family.
Similar products
Luminous base with LEDs
The optionally available light base (9,95 €*) illuminates your glass photo from below and sets your motif in scene.
Order for 9,95 €*
×