Imprint slate plates
19,95 €*
Ready to ship in 2 work days

Product is added to cart
Your chosen photo

Your text
You didn't enter any text.
Font:
×
Slate plates: Popular Design Templates
All infos about the printed slate plate
Details
Colour: slate grey
Size: slate plate large: 30 x 30 x 0.5 cm, slate plate small: 20 x 20 x 0.5 cm
Material: natural slate
Printing area: slate plate large: 28 x 28 cm, slate plate small: 18 x 18 cm
Weight: slate plate large: approx. 1 kg, slate plate small: approx 0.6 kg
Printing process: direct printing
Note: The printing inks used to print the slate plates are not food safe.
Slate plate in 2 sizes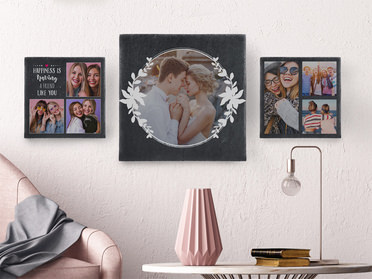 The printed slate plate is available in the sizes 30 x 30 cm and 20 x 20 cm.
Slate board as a guestbook
Tip: The slate board is not only suitable as a great souvenir for the wedding, but can also be used as a guest book. In our video you'll find an easy way to make it.
Firm stand due to slip stop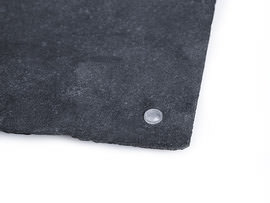 You get 4 anti-slip studs to stick on to your printed slate plate. The rubber studs give the slate plate a secure stand and protect your table from possible scratches.
Simple wall attachment with bracket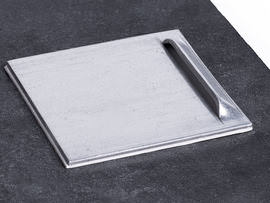 Attaching your photo slate to the wall is no problem: You get a wall bracket with your slate, which you can simply glue to the back of the slate.
2 stands included
In addition to your printed slate board you get 2 transparent base stands. So you can set up the slate boards easily.
Fine natural slate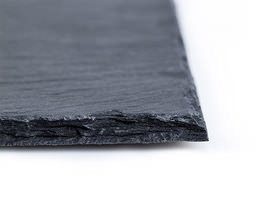 Our slate boards with photos consist of grey-black natural slate and are approx. 0.5 cm thick. Slate is a natural product and has a rough, somewhat uneven surface.
Frequently asked questions about slate plates
How are the rubber studs and the wall hanger mounted?
The anti-slip nubs are self-adhesive and can simply be glued to the slate tile. In order to mount the wall hanger, simply peel off the protective strip and stick it with the grommet upwards. The wall bracket is self-adhesive. We recommend to glue the wall hanger in the upper middle area of the back and to press it down firmly.
What do I have to pay attention to when caring for the slate?
The slate tiles are not dishwasher safe, but you can easily wash them by hand. To ensure that you enjoy your slate for a long time, please use only acid-free detergents, as the acid can damage the slate.
Is the slate weatherproof?
Slate is a robust and weatherproof material. You can use our slates outside without any concerns, for example at the front door. To make the imprint even more durable for strong weather (e.g. when used on a grave), we recommend spraying the slate with clear varnish.
Similar products