Engraved treasure box
19,95 €*
Ready to ship in 24 h

Product is added to cart
Your chosen photo

Your text
You didn't enter any text.
Font:
×
Engraved Treasure Chest: Gift Ideas and Inspirations
All infos about the engraved treasure box
Details
Size: large treasure chest: 18 x 12,5 x 10 cm, small treasure chest: 15 x 9,5 x 8 cm
Material: pine wood, metal fittings and fastener
Engraving area: large treasure chest: ca. 15 x 9 cm, small treasure chest: ca. 11,7 x 7 cm
With bolt lock; no key required
Available in 2 sizes

Choose the right size for your needs: The small treasure chest is ideal as packaging for banknotes and coins. The large treasure chest has enough space for cards, vouchers, photos and memorabilia.
Easy to open and close
The lock of the engraved treasure chest does not require a key, but is opened and closed by a simple bolt lock. The lid of the wooden treasure chest can be opened up to 180°. This makes it easy to fill and decorate and, if you wish, you can also give it away with an open lid.
Beautiful design with dark fittings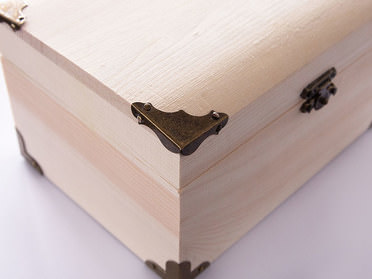 Fittings, lock and hinges of the chest are made of dark metal. They give the engraved chest the charm of a real treasure chest.
Treasure chest for every occasion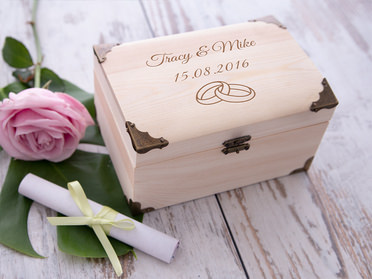 Wedding, birthday, baptism, birth, communion, for children... in our gallery you will find the right motif for every occasion. The motif is engraved together with your text on the lid of the chest.
Treasure box for small treasures...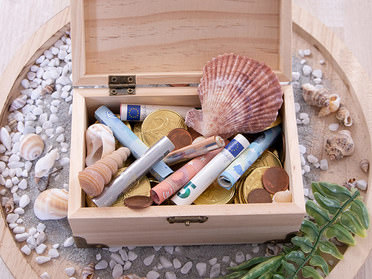 Fill the chest with banknotes, sand, shells and gold coins and turn it into a real treasure chest. It is guaranteed to be an eye-catcher with a money gift for a wedding or birthday! In addition, small treasures such as jewelry, photos or keepsakes are safely stored in the large keepsake chest.
"It's perfect for my daughter. She likes to keep all her jewellery inside. It's very stylish and I love that it is personalised with her name, too."
Similar products